Christmas Club Open
01/09/2021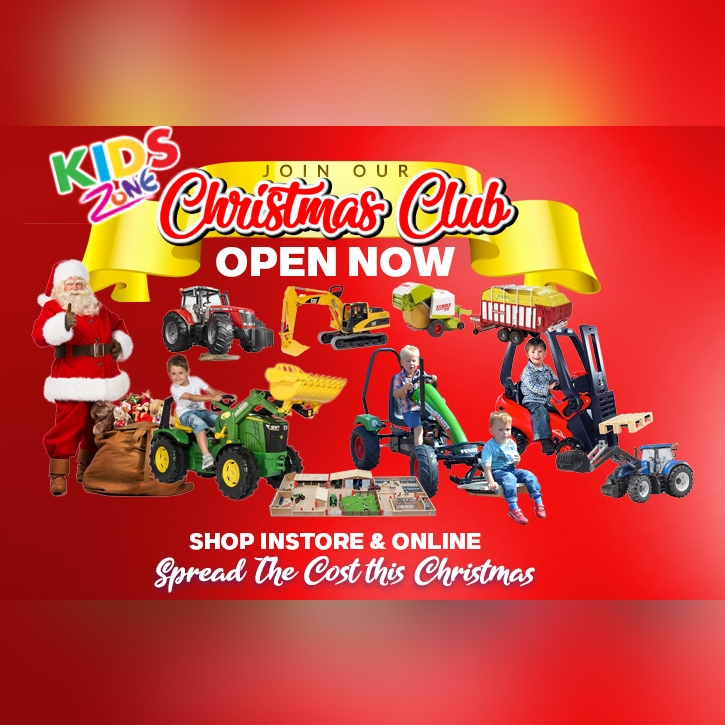 Christmas made easy
The Clarkes of Cavan Christmas Club is open. So if you don't know what our Christmas club is let us give you a summary of what you can get with it.
What it is?
We know Christmas can be hard on people so we aim to make Christmas easy. Our Christmas Club is a way to pay off items gradually instead of one lump sum, we offer this service both online and offline (in-store). We have 2 ways of doing this.
Clarkes of Cavan Payment Plans
First is our own Payment Plan. We offer this on all kids Zone items over €200 value. We have simple 20% & 50% deposits, so you can pay the rest of the balance how you want. In-store, online over the phone, whatever.
We also have a 20% plan. Just pay 20% now and 20% for 4 weeks. Payment reminders will come to your email. Lastly is the 10% now/30% later option. Pay 10% now and 3 payments of 30% every 2 weeks. That's it, 0% Interest. Many options to pay how you want. Note our payment methods require you to finish paying for your item(s) before we send them to you.
To use this method just choose an item, let's say one of the rolly tractors, select payment plan and your chosen plan and then add the item to your basket.
Humm
The second way is Humm. This service is available on all items over €80. There is 0% interest up to €500. Payments are usually made every two weeks and comes straight out of your bank. To use Flexi-Fi just add your item to your basket and on checkout payment choose Humm. This will take you to an application page. Applying is easy and you can get up to €15,000 in minutes. When you are approved for the amount in your cart, your order will go through and we can send through your order straight away.
That's it…
So yeah, that's how easy it is to shop at Clarkes of Cavan this Christmas. Want a pedal tractor and don't want to have all the money yet, no problem. Christmas doesn't have to be a total pain, so we think we are helping in any way we can to reduce the load and the stress for parents. If you have any other ideas for us or some feedback please let us know by contacting us.
We hope you all enjoy shopping with Clarkes of Cavan this Winter Season.